About

S

onia
Without Sonia, the Sherwood Park Real Estate industry just wouldn't be the same! Sonia consistently demonstrates a true commitment to her clients, making them her #1 priority. Sonia considers Real Estate her lifestyle rather than just a career, and makes herself available 7 days a week to all her clients. Her personality, people skills, and passion make every day an adventure in Sonia's Real Estate world. Sonia's vivacious personality shines through when working with her Real Estate clients. Ready and able to help YOU navigate the jungle of Real Estate, she will work hard to exceed your expectations.
This "tiger" also has a tamed and playful side. She is able to succeed in the industry so well because she has mastered the art of working hard, putting her clients first, going above and beyond for others – all while having the time of her life! Sonia's fun approach in an otherwise serious industry doesn't go unnoticed: she leaves her prints all throughout Sherwood Park and the Edmonton area. Just take a drive through Sherwood Park and you'll see her FOR SALE signs everywhere. Drive back a few days later and those signs will say SOLD.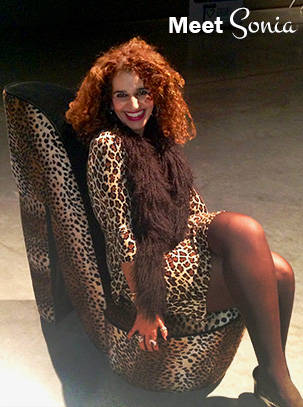 Sonia grew up in Southwest Edmonton and is the daughter to a successful Real Estate developer. Having a father who was in the industry for several decades, Sonia was exposed to Real Estate at a young age, and her initial work in the industry was through administrative duties for her father. A few years later, she attended NAIT to study Business and Marketing. Sonia enjoyed a successful 15 years sales career, earning numerous awards, yet her passion remained in Real Estate. She began to personally invest in Real Estate and loved the opportunities it provided.
"Real Estate has been in my blood since birth. It's simply part of who I am."
Sonia Tarabay
Sonia has earned numerous awards including: The RE/MAX Hall of Fame Award, RE/MAX Chairman's Club Award, RE/MAX Diamond Club Award, and most recently in 2017 in Las Vegas Sonia received The RE/MAX Lifetime Achievement Award and was named in The Top 100 RE/MAX Agents Worldwide!
Sonia loves spending time with close friends and family, meeting new people, traveling, hot yoga, and music. She loves feeding her cultural curiosity through trips to local art galleries, plays and the Opera. She's truly a well-rounded individual with a contagious personality. She also enjoys giving back to the community through charitable organizations. Read more about Sonia's community involvement.
Get a
Tiger

on Your Side!

Sonia has an aggressive marketing plan and is fierce when it comes to representing her clients at the negotiation table.

Learn More
Sonia's
awesome

5
Service

Outstanding REALTOR®!

Sonia has what you need to sell or buy a home. She is sincere, hardworking, organized and efficient. We wouldn't hesitate to recommend Sonia to anyone looking to at buying or selling.

Mary & Michael McIntyre

A Friendly Tiger

She delivered flawlessly what she committed to with integrity and strong work ethics. Just tell her what you need: you won't be disappointed!

A. Trandafir

Simply the Best!

I haven't enough words to describe the energy and effort Sonia puts into her work. She sold our home in only 2 days! Tell everyone you know, Sonia not only sells homes, she is the best.

Wendy & John Gillespie

Read More